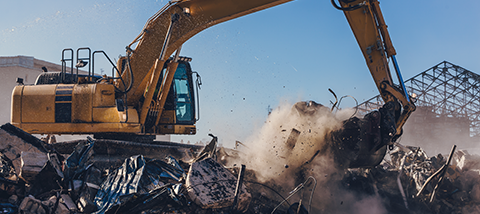 If you're a demolition contractor looking to find quality demolition jobs for bid, Hometown can help.
Our demolition leads eliminate the need for you to continually hunt down demolition jobs.
Instead, the potential customers find you and requests bids directly from you.
Each month, thousands of homeowners, property managers, and commercial building owners visit Hometown to request bids on their demolition projects.
These customers input their city and state and are brought to a listing that features information on your company.
To receive an estimate on their demolition job, potential customers contact you directly for a quote.
Read more:
Real-Life Examples of Hometown Demolition Quote Requests
As part of our services, Hometown also provides reputation management—designed to improve the online reputations of our clients.
We follow up directly with consumers who found a demolition contractor through Hometown in order to collect and publish reviews on behalf of the contractor.
Here are a few examples of demolition quote requests submitted through Hometown that were ultimately won by a Hometown client...
Garage Demolition in Denver, CO
Final Cost: $1,950
Looking for demolition and removal of original 12 ft x 20 ft single-car garage built in 1942 made of cinder block, sitting on a concrete slab. I need everything removed, including the slab, and returned site returned to grade.
House Demolition in Three Rivers, MI
Final Cost: $10,600
Looking for demolition of 2,500 sq ft house with crawl space and no asbestos, including leveling site.
Cottage Demolition in Bayview, SC
Final Cost: $6,500
Need demolition of our single-story 1,000 sq ft cottage.
House, Swimming Pool, and Garage Demolition in Dallas, TX
Final Cost: $8,100
Need demolition of a house with a detached garage and a swimming pool. The house is on a pier and beam and is about 1,800 sq ft. The fiber glass pool is about 6 ft x 15 ft and maybe 6 feet deep with cement around it.
Metal Shed Demolition in Centerville, VA
Final Cost: $1,200
We have an old metal shed on concrete a slab that we want to have removed. Shed dimensions are 7 ft L x 5 ft W x 6 1/2 ft H.